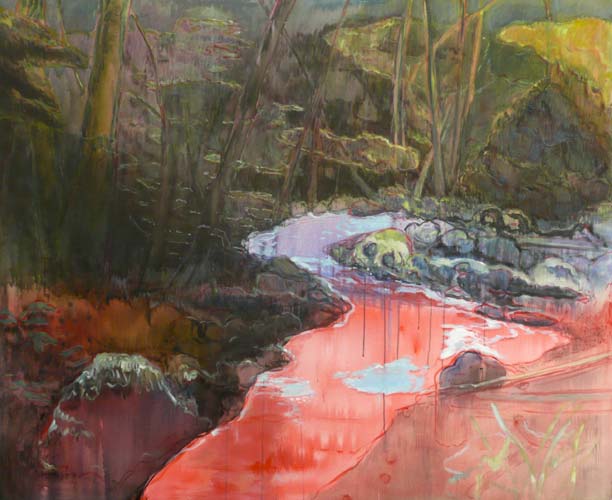 Wojciech Nowikowski was born in Poland in 1954. Since graduation in 1986 from the Fine Art Academy in Warsaw the artist has shown his work in several solo and group exhibitions including 1991 'Galleries of the '80s' in Zacheta National Gallery, 1995 'Drawing' in the National Museum and a 1999 solo show in the Polish Cultural Institute in London.
In the 1990s the artist settled in London and from 2001 until 2012 was an associate lecturer at the University of the Arts London.
(Read more)
His work, exploring a range of media, was abstract, lyrical and intuitive; the forms it employed were often a hybrid of organic and mechanical. A significant change brought by interest in colour resulted in the 2002 series of 'flags' and minimalist panels of glossy, immaterial surfaces. What followed was a steady increase in physicality of paint and space, and the emergence of the 'object' in the 2007 series 'Offerings, Trophies'.
In the 2009 show 'Consolations of a Floating Man' five large canvases formed an enclosure. The landscapes engulfed the viewer, at times offering a shelter, at times masking unknown menace. In doing so the works aimed to create a feeling of floating, a fragile balance between resignation and hope. The 2011 series of paintings ('Along the Danube: remembering the immensity of the world') finds its origin in family history and is a reflection on memory and fantasy, chance and fate.
In the series 'Transitions' 2013 and 'Late Harmonies' 2014 the paintings, made of thin layers of diluted paint, are translucent and fluid. The artist seems preoccupied with notions of transience, change and uncertainty. The two-year stay (2013-15) in New York and travels through the deserts of Utah and Arizona left a clearly visible impact. The series of works: 'Hudson', 'Utah' and (painted later in London) 'Speleologist's Bride' are all 'dramatisations' of those experiences. The most recent works, predominantly very small and on paper, are (occasionally playful) explorations of range of subjects : from notion of weight and pressure ( 'Tectonics' 2016, 'Compressions' 2017) to human body and landscape.
It is an image I started to paint long time ago. Throughout I didn't know precisely where I was going, but I believed that to be only temporary. Now I know it to be essential to my work process, an indispensable condition for painting.

Uncertainty, as Marc Hulson wrote in the introduction to my 1999 show, remains as valid now as it was then.

Creative rummaging and the resulting path that meanders and doubles back on itself, the "characters" and forms that reappear years later only to dissolve or morph again. At times my work trespasses on to familiar territories referring freely to other artists ( as varied as Bonnard, Rothko or Guston). I believe in participation in the same "project" where ideas, ways of seeing and expressing can be revisited or revised and in using them as a sling shot to propel me to another place.

I never feel that the work is finished; I can always take another step. Incompleteness is what make me take a new canvas ( only to repeatedly realise that resolution is impossible).

Every time a new image emerges I am in awe, looking anxiously for a reason: something is taken away from me and I want to know what it is and the only way to do that is to paint more.

The best I can do is to close-in, accept loose ends, incompleteness. Often works form short series, multiple takes. Each work is valid but it can take me only so far.